African Helix Bracelets

These bracelets are done in double, triple and quadruple helixes. I've cleaned up the scans and the colors and details are
somewhat closer to the true colors. Also, I have received some questions as to what the double and triple helixes are and
where can people find the instructions for them. Well as far as I know that there are no written instructions for these, I kinda
just made them after learning the african or quad helix. So I'm working on writing up some instructions to share with all of you.

African Helix Bracelets With African Trade Bead Clasps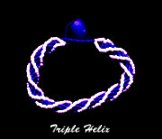 I would love to hear from you!!!